HELLLOOOOO 2019!!!!
HOW ARE Y'ALL DOING?!?! WHO'S EXCITED FOR 2019 someone??? anyone???
I AM SO EXCITED FOR THIS POST!! WRAP-UPS ARE MY FAVOURITE POSTS TO READ AND WRITING THIS WAS SO FUN!! I HOPE YOU LOVE READING THIS AND HAVE HAD A FABULOUS NEW YEAR'S DAY!! WHY AM I SCREAMING IN CAPS????
I've decided to make a mini series called Everlasting 2018* where I wrap up 2018 because I have a LOT to talk about OKAy?! And I think it would be best for everyone's sanity if there were multiple short pfft false advertising at it's finest folks. This post is more than 2000 words. HAH YOUR POOR EYES. I REGRET NOTHING posts rather than one HUMONGOUS one.
Today, I'm taking part in an AMAZING link-up hosted by The Perpetual Page-Turner… the 9th Annual End Of Year Survey – 2018 edition!! I'm not doing all the questions because this post would be FAR TOO LONG otherwise. I've also kinda reworded the questions so they stay on one line!** totally didn't spend 97127876 hours on that just for the aesthetic…no…of course not except for that one question where it didn't work uhhhh 
*Yes I know the name is complete CRINGE but my brain decided to go on holiday around the 377987th name SO.
**LeT mE HAVE MY FUn
BOOKISH STATS FOR 2018
Books: 116 (if you want to see all the books I read this year, go check out my Goodreads challenge here)
Pages: 43,481
Average Rating: 4.3
PIE CHARTS!!
Pie charts are GREAT. they can make your head hurt at points but STILL. I love cherry pies best. Joking- maths pies are great! (Fun fact: I adore maths! I love how there's one certain answer to things and no confusion when you understand how something works!) I've only got two because I kind of gave up on keeping a spreadsheet after a month?? I took all this data like now and I'm too tired to take any more but it's so interesting!
Star Ratings: To be completely honest, this isn't that surprising for me. I know I give out a LOT of high ratings but I think that may change this year because I'm starting to become a lot more critical when it comes to ratings! (book blogger mind!!)
Reads vs. Rereads: I really need to start rereading more! I love so many books and I feel like I'm not giving them the time and attention they deserve? I kinda feel like rereading a book is like cheating and I should be reading a new book? (I know that's not true but still MY BRAIN)
BEST BOOKS I READ IN 2018
HAHAHAHAHAH?!?!?'#'#@: YOU EXPECTED ME TO CHOOSE?! NO. WAY. HAVE A WHOLE BUNCH: I just realised how many 5 stars I give out- and this is just me picking SOME from my 5 stars?! FUTURE KERYS: You gave out exactly 58 five stars this year so the fact that you managed to narrow it down to 16 fave books is AMAZING. LET'S HAVE SOME APPLAUSE PEOPLE.
LEAST FAVOURITE* BOOKS OF 2018
Just to make it clear, this is my opinion and my opinion only. You may have loved one (or all) of these books! I've mostly forgotten everything about these books and I think the only reason these are my least favourite is because they were too boring or similar to other books!
*Yes I am British. Yes I do spell it like that. yES I am going to ignore WordPress and its silLY rEd line.
DISAPPOINTING BOOKS 
The Astonishing Color of After: I was so excited for this book! There was a half Asian main character, great mental illness rep and honestly it just sounded so touching and emotional! I think I did cry at the end but I was a bit underwhelmed, I guess?? I think I set my expectations too high. It was beautifully written though and you should definitely check it out if you're looking for mental health rep and a story of love and family!
City of Ghosts: I've heard so many good things about Victoria's books and I thought I would love this because ghosts are v. v. cool. And it just sounded amazing, you know? Sadly, like before, it was underwhelming and I was dissapointed. However, I'm sill going to try This Savage Song because it's cover*?! and the title?! *melts*
*Would you disown me if I said I don't really read blurbs anymore??? 
BOOKS I PUSHED PEOPLE TO READ
I pushed literally and figuratively one of my best friends to read Scythe and she loved it which made me so HAPPYYYY!!! (someone actually appreciates my recs!!) And now I have someone irl to fangirl with which is a great bonus!
I've also pushed a whole bunch of people to read Six of Crows and The Raven Boys but nobody's listened though so…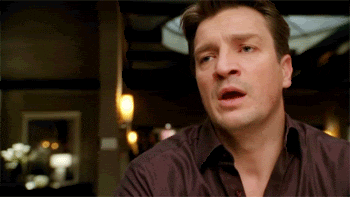 BEST SERIES I STARTED IN 2018
Scythe: Like I MENTIONED BEFORE THIS IS AN AMAZING SERIES AND YOU NEED TO READ ITTT *sobs*
The Raven Boys: This book has one of the best friendships and omg whaat I'd give to be with them and go on their adventures!
Six of Crows: AHHH this was so fluffy and dangerous and sweet and murderous!! My precious babies and their heists! I love this book so much… pls read it. it will break your heart but then we can cry together
BEST SEQUEL OF 2018
I read quite a few sequels this year and to be honest, most of them were not as good as the first book.
Crooked Kingdom: I'm not even kidding but this will give you ALL THE FEELS. There's so many ships that need to be shipped, so much planning and stealing and heists and ahhh it's one of the BEST SEQUELS ON EARTH.
FAVOURITE NEW AUTHOR
That has GOT TO BE Patrick Ness! I saw one of my friends reading one of his books so I decided to read it too and it was amazing! I've now read almost all of his books and he's definitely one of my favorite authors! His writing is quite different and I can see why someone might not enjoy it but for me it's great!  Unfortunately, my friend didn't end up liking his books but ohhh wellll
BOOKS I WOULD RE-READ IN 2019
That would definitely be Scythe! This is lowkey just turning into a Scythe appreciation post. Next year, I should limit myself to one book once! I'm also planning on rereading The Cruel Prince once The Wicked King comes out! Also hands up who's excited for The Wicked King?! I've read a couple of reviews and ahhhh I can't wait! It sounds so sarcastic and murderous and revengey athgyjhuki;kjlh
FAVOURITE BOOK COVERS
These covers are too pretty!! I'm kinda on the fence about Solitare but it is pretty cute so I included it! All these books are 4/5 stars for me so that says something i guess. I really have a thing for dark covers though…
MOST MEMORABLE CHARACTERS
Cardan from the Cruel Prince and Ronan from The Raven Boys! They are both such strong male characters and I love their snark! Also Inej and Nina from The Raven Boys! Is it just me or are SNARKY CHARACTERS THE BEST???
BOOK I SHOULD HAVE READ BEFORE
This book is a classic filled with SO. MUCH. EMOTIONAL TRAUMA. I absolutely loved reading it and it filled me with tears. I'd wanted to read this for a couple of years now  but I never got around to it till this year! i really enjoyed it. despite the heartbreak.
SHORTEST AND LONGEST BOOK I READ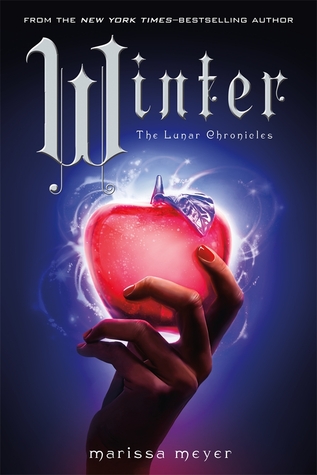 The shortest book I read this year was These Precious Scars which was a short story set before This Mortal Coil and was only 47 pages! The longest book I read this year was Winter, the last book in the Cinder series and it was 827 pages which is quite a lot!
OTP OF THE YEAR
Some of these may be considered spoilers so feel free to skip this section!
ADAM+RONAN from The Raven Boys// THey are SO CUTE omg I literally melt thinking about them ahhhh!!
NICK+CHARLIE from Heartstopper// I LOVE MY Gay OTPs and Nick and Charlie are so cute!!! Also all the pictures are so pretty and I love it!!
JESPER+WYLAN from Six of Crows// THEY ARE TOO CUTE AND HONESTLY MY HEART ACHED FOR DAYS AFTER I FINISHED READING ABOUT THEM.
KAZ+INEJ from Six of Crows// "I will have you without armor, Kaz Brekker. Or I will not have you at all." Too cute.
NINA+MATHIAS from Six of Crows// What can I say? Bardugo's an angel when it comes to making ships.
FAVOURITE NON-ROMANTIC SHIP
I friendSHIP (haha get it? i'm too funny?*) Ronan and Blue together so much!! They are such great friends and honestly, who doesn't love this scene?
"No homework. I got suspended," Blue replied.
"Get the fuck out," Ronan said, but with admiration. "Sargent, you asshole."
Blue reluctantly allowed him to bump fists with her as Gansey eyed her meaningfully in the rearview mirror.
Adam swivelled the other way in his seat – to the right, instead of to the left, so that he was peering around the far side of the headrest. It made him look as if he were hiding, but Blue knew it was just because it turned his hearing ear instead of his deaf ear towards them. "For what?"
"Emptying another student's backpack over his car. I don't really want to talk about it."
"I do," Ronan said.
"Well, I don't. I'm not proud of it."
Ronan patted her leg. "I'll be proud for you."
*I'm sorry, I'm really not cool. I'm like the last person to get this
BEST BOOK I READ BASED SOLELY ON RECOMMENDATION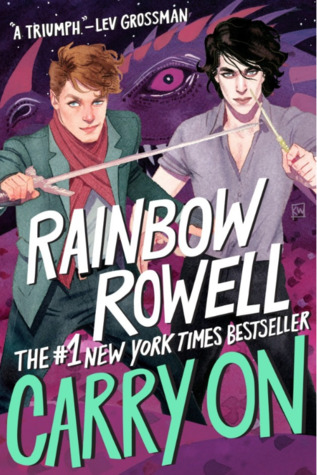 Erm… I think that's Carry On I've heard a lot of good things about Rainbow Rowell's books and so I just decided to pick this book up without even reading the blurb. *cough*silly*cough* I liked it but it was a bit underwhelming and I was getting serious HP vibes. There was a cute plot twist though! I've tried more of her books like Eleanor and Park and Attachments and I really enjoyed the sweet stories!
BEST 2018 DEBUT I READ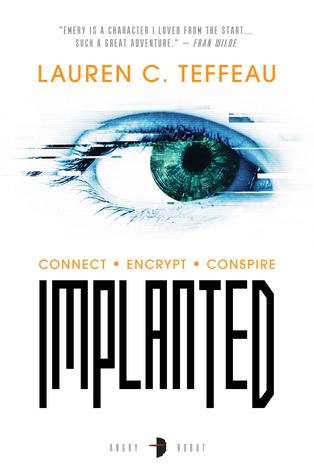 I really enjoyed reading Implanted! It was a great Sci-Fi Dystopian and I would definitely recommend it if you're into that kind of stuff! There's blood carrying and SECRETS who doesn't love a good secret? and you can check out my review here!
BOOK THAT MADE ME CRY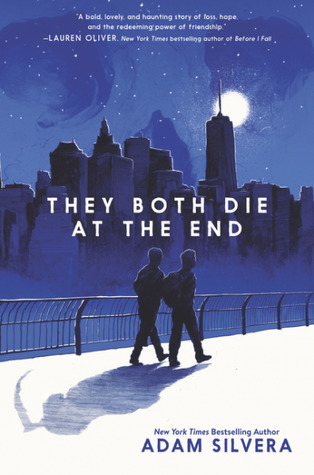 I've recently observed that I cry quite a lot. Which kinda ruins the BADASS WARRIOR impression I'd invented of myself but you know maybe I'm a cariinggg person???? I cried for quite a few of the books I read but one I remember is They Both Die at the End. It made me CRY MY EYES OUT. It was so emotional and even though you know what happens at the end, it's like you don't fully accept it till you get to it??? if you haven't read this, what are you doing with your life!? Go torture yourself with tears and heartbreak.
MOST ANTICIPATED NON-DEBUT BOOK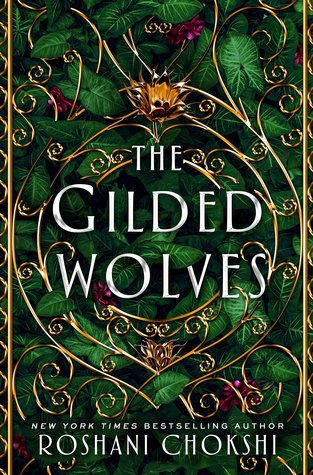 I am SOOOOOO excited for The Gilded Wolves!!! It sounds so cool and AMAZING AND I AM ALREADY IN LOVE!! Also, it's set in Paris?!?! Ooh la la  I'm too embarrassing. You should just hide me behind a pile of books and cake. No one would blame you.
MOST ANTICIPATED 2019 DEBUT
I cannot wait for this one! It sounds like such a sweet and touching tale and ahh i'm literally just melting from the BLURB gfeuisrhvuig
MOST ANTICIPATED SERIES SEQUEL
I read The Cruel Prince last year and I absolutely loved it!! The Wicked King sounds so amazing and backstabby and murdery that I NEED TO READ IT.
2019 RELEASE I'VE ALREADY READ
I read Enchantée because I got an arc through Netgalley and I love it! I've got a review coming up soon so keep your eyes PEELED. ARCs are great but a downside is having to wait longer that a normal person to read the sequel. Blogger Struggles™ *sigh*
CHAT WITH ME! Did you do anything for New Year's Day? What were your top books of 2018? Which books do I need to avoid like the plague?? TALK TO ME ABOUT ALL THE OTPS!!! I SHALL SHIP WITH YOU!! What are you planning on reading this year? What's your favourite kind of pie? Rereading or not? DIVULGE YOUR SECRETSSSS
Hugs!
Kerys xx