Me watching time running out, knowing full well I have so many things to do: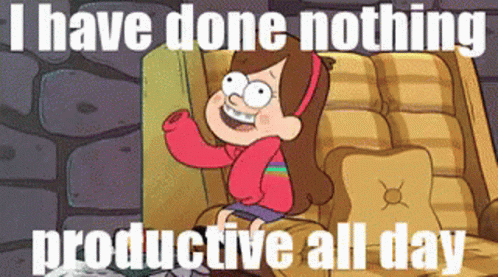 *except replace 'day' with 'year' and you get my life story
It's time for the first wrap-up of 2020 and I'm not ready. January was a confusing month. It just drAgGEd on but at the same time, it went so quickly?! i don't even make sense to myself anymore As far as the year goes, I feel like January was just a free trial a pretty bad one at that and February is the time for me to get my mess together. i say as i post this wrap up halfway through Feb but shhh
It has been so long since I wrote a wrap-up post and I forgot how much I loved it! This is probs going to be pretty long but if you decide to read through it, I love you with all my heart!

Books
I read 15 books in total! I've started using my library a lot more and I am so shocked at all the amazing books they have! I also listened to 3 audiobooks and read 4 ebooks! (go me!) I really enjoyed quite a few of these books but a few were really disappointing. My average rating was 3.89 stars. Also, I briefly REVIEWED?! almost all of the books I read on Goodreads after I read them! i'm a changed person.
Whenever anyone asks me how I read so many books, I always say I'm a fast reader… and I am… but I also end up sacrificing a lot of time that I don't have. However, I feel like I should have been spending it on my studies or this blog. I just feel a bit guilty for prioritising books so much sometimes.
I typed out summaries for each book but since I read quite a few, this post ended up a mile long. So I decided to do 3-word summaries they're going to turn into phrases let's be real of each book and if you're interested in reading more, you can head over to the book's review!
Deeplight by Frances Hardinge // ⭐️⭐️.5 // Beautifully-written. Predictable. Bland. review here
The Gilded King by Josie Jaffrey // ⭐️⭐️⭐️⭐️ // Interesting world-building. Invested in the plot. Full of tropes. review here
This Savage Song by Victoria Schwab //  ⭐️⭐️⭐️⭐️ // Incredible. Gripping. Emotional attachment to characters. (audiobook) review here
Our Dark Duet by Victoria Schwab // ⭐️⭐️⭐️ // Disappointing. Plot fizzled out. Unnecessary. review here
Geekerella by Ashley Poston // ⭐️⭐️⭐️⭐️⭐️ // Adorable. Nerd-culture. Well-crafted characters. review here
The Boy Who Steals Houses by C.G. Drews // ⭐️⭐️⭐️⭐️.5 // Beautifully-written. Amazing characters. Wholesome. review here
A Match Made in Mehendi by Nandini Bajpai // ⭐️⭐️⭐️⭐️.5 // Heart-warming. Brilliant representation. Relatable main character. review here
36 Questions That Changed My Mind About You by Vicki Grant // ⭐️⭐️⭐️.5 // Cute. Sarcastic. Interesting premise. review here
The Cruel Prince by Holly Black (reread) // ⭐️⭐️⭐️⭐️⭐️ // Amazing world-building. I love with the characters. Has my heart. review here (it's a really cool collab review with a ton of fangirling!)
The Wicked King by Holly Black (reread) // ⭐️⭐️⭐️⭐️⭐️ // Killed me. Unpredictable plot. Tons of character development. review here (it's the cool collab review again!)
The Queen of Nothing by Holly Black // ⭐️⭐️⭐️⭐️.5 // Amazing finale. Gripping. Captor of my soul asdsfdgjfgh; review here
PS, I Love You by Cecelia Ahern // ⭐️⭐️⭐️.5 // Emotional. Well-written. Slow-paced. review here
The Sky is Mine by Amy Beashel // ⭐️⭐️⭐️⭐️ // Powerful. Thought-provoking. Well-written. Review to Come! review here
The Island by M.A. Bennett // ⭐️.5 // Disappointing. Ridiculous. Melodramatic. (audiobook) review here
Book Haul
Note: I do not mean to brag but putting the books on here helps me recall which books I received and need to review and are a way of showing my appreciation to the author/publisher.
I am so excited about all of these amazing books and incredibly grateful to have received them!! Thank you to everyone who sent me books this month! I can't wait to read and review these!
Blogging
I started blogging again!! which is really fun! I've been loving writing posts and am really proud of all the content I'm creating at the moment! I've also started experimenting more with graphics. I think mine are aesthetic but they don't really fit any sort of theme sooo any tips or ideas or help or anything?? save me This month, I posted
General Updates!
erm… we reached 700 followers on this blog! 1000 followers on Twitter!! 100 followers on Instagram! I don't know why you guys are still here but I am so grateful to be able to fangirl with you!
realised how toxic some of my friends are?
but that just makes me so grateful to have the book community and this blog to turn to – you all honestly are one of the best bits of my life at the moment and I really can't say how much I love all of you
me and my friends took part in this computing competition that we're two years too old for and then had to pull out after getting through to the final!
one of my fave YouTubers released a planner and it is so awesome!!
I got new glasses!
How was your January? What's the first book you read this year? What's life been like? How are your New Year's Resolutions going? What are you excited for? Fave read so far? DIVULGE YOUR SECRETS!!
Hugs!
Kerys xx
Goodreads | Twitter | Instagram | Bloglovin' | Amazon Wishlist